St. Declan's is presented with our National Flag
On Friday 6th November 2015 the senior classes made a guard of honour to welcome Commandant Suzanne Wall and Corporal Wayne Casey of the Defence Forces (Óglaigh na hÉireann). Commandant Wall and Corporal Casey were delivering the Irish Tricolour as part of the commemoration the the centenary of the 1916 Rising and to celebrate the Proclamation of the Republic one hundred years ago next March.
We were honoured by a visit from two special guests – Minister Kevin Humphries Labour TD (Minister of State at the Department of Social Protection) and Lucida Creighton Independent TD and leader of Renua.
Before the visit the whole school was busy finding out what the colours on the flag mean. We learned that the National Flag of Ireland, a tricolour of green, white and orange, is intended to symbolise the unity between people of different traditions on the island of Ireland.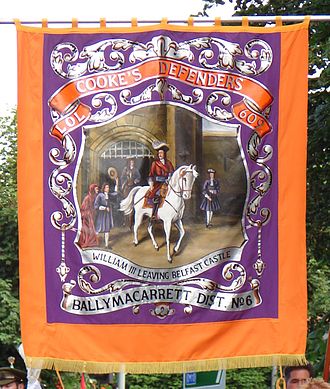 The green comes from an old flag of Ireland used more than three hundred years ago. The orange represents the people who were supporters of King William III, who was of the House of Orange in the Netherlands. The orange colour comes from the Anglican tradition who were interested in staying loyal to the British crown. The white represents peace and reconciliation between these two traditions.

During our flag ceremony Lloyd read out part of the Proclamation of Independence and Corporal Casey told us how to look after our flag. He also answered questions about his job as an Irish soldier. Matthew told us that he thought he was related to Thomas Clarke, one of the men that signed the Proclamation in 1916.

Throughout 2016, there will be ceremonies marking the importance of the Flag in the 100 years since the 1916 Rising. The 2016 Programme will begin on 1st January with a flag raising ceremony in Dublin Castle. The Irish Army, Óglaigh na hÉireann, will raise the National Flag every day during 2016 on O'Connell Street, outside the GPO. In addition, Óglaigh na hÉireann will carry out flag raising ceremonies in each county as 2016 Commemorative Programmes across the country.
The National Flag of Ireland, a tricolour of green, white and orange, is intended to symbolise the inclusion of and the aspiration for unity between people of different traditions on this island. In addition, our National Flag is a symbol of peace and reconciliation on this island. – See more at: http://www.military.ie/en/info-centre/defence-forces-2016/flags-for-schools-initiative/#sthash.4cM4JMHy.LuWolwnc.dpuf